Filthy soot marks or the ephemeral touch of a flame? Explore art made from smoke
One way to cultivate creativity is to make art from the mundane. There is tremendous freedom in experimenting with a range of common everyday objects without any preconceived notions. Simply handle the media and reflect on, and then play up, its inherent characteristics. This month's medium is smoke—and its sooty residue.
Smoke is both a rare and an ancient medium. While it was incorporated into ancient cave paintings, you don't find a lot of examples of art made from smoke and that may be why the work you do find looks radically different. Each of the artists below found their own unique process through individual experimentation. Sometimes the smoke is gently guided, other times it is tightly controlled. Sometimes it is built up layer by layer, other times a subtractive process is used to reveal an image. Some artists leverage its metaphorical or historical significance, while other artists focus on its physical characteristics. In addition to images of the art, there is considerable video footage of these unique techniques in action. Combined, these works will make you see smoke in a new light.
Decorative Techniques
Early American folk artists used smoke to decorate furniture like this blanket chest
The plate above is an example of how Dr. Eleanor McQuillen used smoke as a decorative technique.
Smoke Painting
Smoke Photography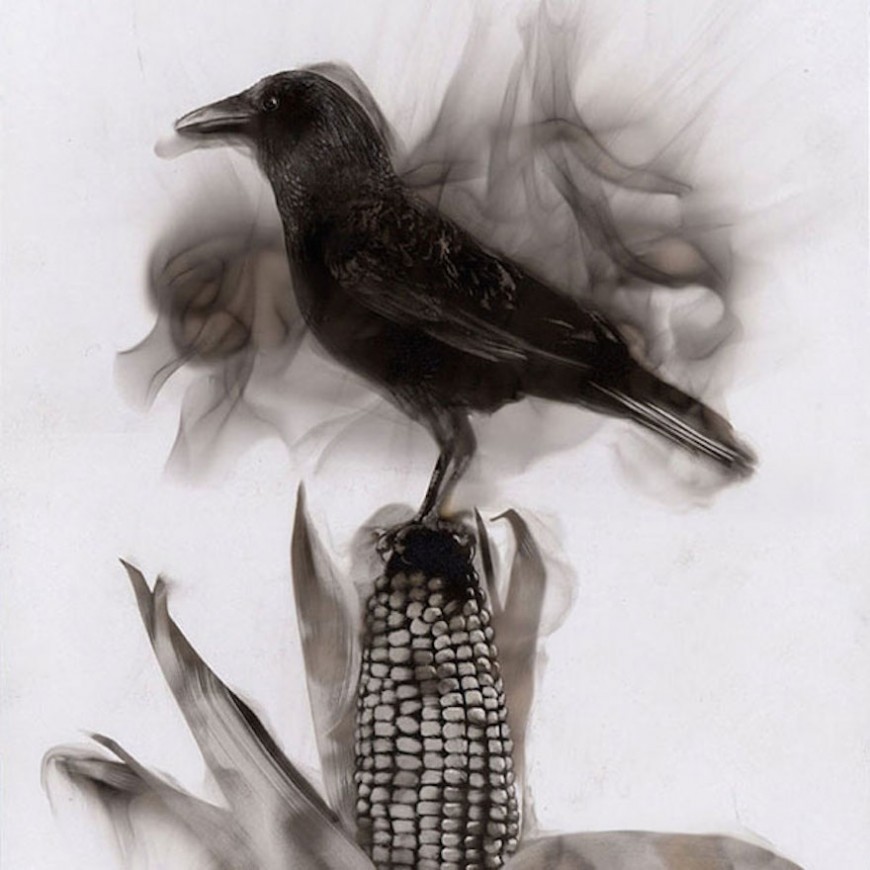 "Ornithocide" is Spazuk's most recent collection of soot paintings. It is a disturbing series featuring live and dead birds juxtaposed with various manmade devices designed to kill insects. Since this industrial revolution, we are quite comfortable with the idea that we can poison insects to seemingly cleanse our homes and protect our crops. We collectively and conveniently avoid thinking about the impacts of these suicidal choices. How can it make sense to lace our food and dwellings with poisons? How dare we impose these deadly choices on all other forms of life? Like the classic "canary in the coal mine", Spazuk reflects on the shocking population decline of insectivorous birds as a clear warning to humans that these toxins are making their way through the food chains and the natural cycles. Like a dark mirror, the death of millions of birds forces us to see the threat we pose to the planet and all living systems, including ourselves.
— Steve Spazuk, statement from his website May, 2015.
One of the reasons I like working with smoke is that it's totally crazy and chaotic. You can mine it for all of its metaphors: a sort of ephemerality, intangibility, transience. It's the stuff of ritual, it's violent, and it's uncontrollable. It's visible but immaterial, and there's not that much stuff on earth which is visible yet immaterial.
The circus animal and performer imagery in the Smoke Rings series parallels the smoke process. The trainer must recognize and respect the innate nature of an animal when trying to modify its behavior to achieve a desired outcome: e.g. training a bear to dance or training a horse to walk upright. The same is true in working with smoke. The inherent properties of smoke must be respected, then permitted to – and discouraged from – acting naturally.
— Rob Tarbell, from his web site
The miniature scenes I depict are of locations on the edge of suburbia which seem mysterious or even slightly menacing despite their commonplace nature. The bottles add to the implied narratives of transgression. When found by the sides of roads or in the weeds near the edges of parking lots, empty liquor bottles are artifacts of consumption, delight, or dread. As art objects, they become hourglasses of sorts, their drained interiors now inhabited by dim memories.
— Jim Dingilian, see the Aron Packer Gallery
Clean the air. Let the future breathe again.
— Xiao Zhu, a Chinese company dedicated to providing clean air to its citizens. Their video.
Share your links to other smoke art and I will add them to the list. Or, add to the discussion by sharing images of your students' smoke explorations.
NOTE: As the teacher, you will need to consider the benefits of when you share works by established artists. When shown early in the process they can get the creative juices flowing, but they can also lead to self-censoring. Remember, the goal is not to create portfolio-worthy pieces, though that may happen. The goal is to practice thinking expansively and to become more artistically fluent, agile, and responsive.
Please share if you know others who create art made from smoke.