Where maniacal focus and an exceedingly deft touch meet—art made from toothpicks
One way to cultivate creativity is to make art from the mundane. There is tremendous freedom in experimenting with a range of common objects without any preconceived notions. Simply handle the media and reflect on, and then play up, its inherent characteristics. This month's medium is toothpicks.
Used in primary classrooms and college studios alike, toothpicks are an especially popular medium for exploring the principles of art. 3-D design instructor Totem Shriver explains the allure of the toothpick,
Many may ask, "Why toothpicks?" To that I say because they are lines, because they are uniform, because they are everyday objects that we are already familiar with, and probably have certain prejudices against (as an art media), because they are small and require finesse, because they test one's ability to focus, because there is a certain naïve quality to the finished pieces, because it is not what you have to work with that is important, it is what you do with what you have.
The artworks that distinguish themselves in this cluttered field reflect an unparalleled, almost maniacal focus, and an exceedingly deft touch. You will never look at toothpicks the same way again.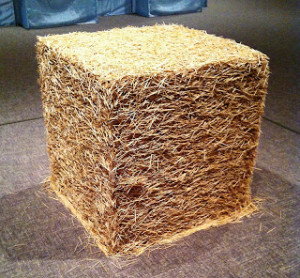 Well, around that time is when the toothpicks happened. Because I was making these pieces where I was sticking toothpicks in potatoes. Basically, making these porcupine-y kinds of things that sort of looked like little Tribbles. You could stick them to each other. You could pile them up. And it was during the time that I was buying toothpicks for that and emptying all the boxes . . . I would buy, say, thirty boxes of toothpicks and instead of having to open each box individually, I would get into a rhythm. And at one point, I accidentally knocked over a box. And for whatever reason, instead of just scooping it up or whatever, I pulled the box off and the toothpicks inside held the corner.…The first toothpick cube I made was about a foot by a foot. It was kind of slumpy and bad, but I realized that if I made it big, it would be heavier and it would work better. Because it wasn't yet dense enough.… Friction and gravity and just the sheer density of small interlocking parts is really all it is. I mean, with that piece, when it reaches the thirty-six-inch-square range, it's strong enough even for me to be able to stand on top of it.

— Tara Donovan, discussing the inspiration for her toothpick cube in an interview with Lawrence Weschler
I have had a fascination creating toothpick sculptures for many years. I find toothpicks and glue to be the most challenging mediums to create unusual pieces of abstract and contemporary art. Unlike ordinary wood, toothpicks have personalities of their own that evolve once they are incorporated into a mass of formed spaces. They possess a certain characteristic that stands out on their own, similar to a bird that has freedom to fly through space with little effort. My creative spirit stretches the imagination of an ordinary toothpick to its utmost test, producing an object that looks like it was created from a solid piece of wood….The fine curves and shapes that reflect the fulfillment of the material used is my way of making a statement, solidifying my thought process into tangible art while keeping my creative spirit alive. Although it would be much easier to use a solid piece of wood to carve the intricate details I have been able to achieve with toothpicks, the fascination and unbelievable expression found on the faces of many people who see my art is a reward to my hard work.

—Steven Backman, explaining his fascination with toothpicks in his artist statement
I started building toothpick sculptures in 1968, when I was 8 years old. My early structures were abstract and about 2 – 4 feet tall. I built one sculpture that had a ping-pong ball roll through it. In 1974 I started a new sculpture and added the Golden Gate Bridge and Lombard Street, that also had a ping-pong ball roll through it. This is what started what is now Rolling Through the Bay….Rolling through the bay is an abstract toothpick sculpture of San Francisco. It has about 100,000 of toothpicks. The amazing part, is that is has four ping pong ball paths that roll through different landmarks of San Francisco. I have spent about 3000 hours on it over a period of 34 years and the only glue I use is Elmer's.…I have used different brands of toothpicks depending on what I am building. I also have many friends and family members that collect toothpicks in their travels for me. For example, some of the trees in Golden Gate Park are made from toothpicks from Kenya, Morocco, Spain, West Germany and Italy. The heart inside the Palace of Fine Arts is made out of toothpicks people threw at our wedding.

—Scott Weaver, describing the origins of his Rolling Through the Bay on his website
I'm fascinated by wood and how it can be manipulated to work as a reconstructed form using various tensions and patterns from nature and the universe. I'm very interested by how light filters through objects and the distortions of shadows. My intrigue continues with patterns in numbers and number sequences though I'm not in any way good at maths. I'm interested in the relationships between numbers and from this sacred geometry as I like to utilize significant numbers and equations to have a meaning or a basis in my sculptures. These fascinations expand to include a desire to visually document or capture what the universe means to me in terms of how our solar system visually tracks out across empty space and how it all relates to itself.…In creating these sculptures I am trying to convey the idea of macrocosm and microcosm in one breath. I use sound patterns to generate depth and content in my sculptures and collect sounds for this purpose. This activity taps into various forms of my synesthesia in which I primarily identify numbers, letters and symbols as specific colours and from this also identify sounds as colours which I apply to my number fascination and this process helps me create my sculptures.

—Franceska McCullough, describing her motivation and process on her website
His works include sculptures made from wood and other natural objects. Earlier works were crystalline or random. Later organic integrated curves and spirals evolved into complex surfaces and forms. The equations represented may take longer to solve than the forms took to make.

—Peter Chang, describing the evolution of his art on his website
My sculpture is made of common materials used in an unexpected way. Convenient materials tend to be objects that are culturally loaded. I use them because of their immediacy and welcome the implied and relevant reference to the world around me. The obsessive nature of my process changes the materials that comprise the work as well as the work itself. Through accumulation, vernacular objects become otherworldly; toothpicks become mountains. Through changes in scale, plate shards become clouds and images become tables. The concurrent reading of the work and its implied play complexity make the work feel at once known and unknown.

—Jay Wilson, in describing his sculptural process and intention
NOTE: As the teacher, you will need to consider the benefits of when you share works by established artists. When shown early in the process they can get the creative juices flowing, but they can also lead to self-censoring. Remember, the goal is not to create portfolio-worthy pieces, though that may happen. The goal is to practice thinking expansively and to become more artistically fluent, agile, and responsive.
Share your links to other art made from toothpicks and I will add them to the list. Or, add to the discussion by sharing images of your students' toothpick-based art explorations.