Weighing a pig doesn't make it fatter. Using tests to improve education can be equally absurd.
While we have never been better at slicing and dicing student performance, test findings analyzed on a bell curve still make half the students winners and half the students losers.
Don't get me wrong, I am not anti-testing. I actually believe we should teach to the test—if that test is worthy of our students and society's educational aspirations. When tests inform instruction and help students achieve content and skills mastery, they can be powerful educational tools. Too often however, high-stakes tests have a bigger impact on our property values than on our children's learning. They certainly don't map a path to mastery or cultivate a love of learning. This of course is bigger than the test. Long after the content of the test is forgotten, the lessons of the test take root—and are reinforced year after year. For one to win another must lose.
Such complicated and conflicting feelings. Since this is a fundamental concern shaping education today it is a topic worthy of greater reflection. I decided to do this through a sculpture, and in keeping with art school practices, I thought I would welcome you to critique and shape this sculpture. Please include thoughts you want to share in the space provided below.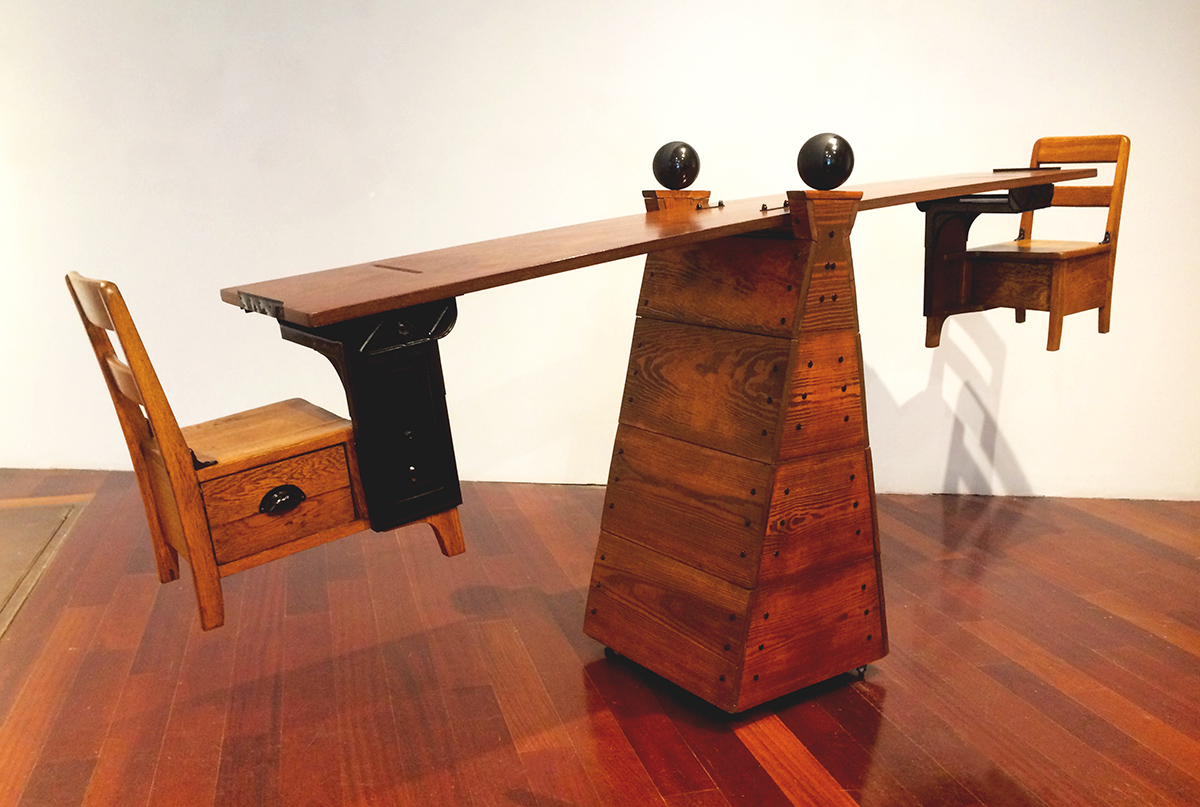 The imagery that guides me
Seesaws may be one of the most traditional and enduring of playground artifacts. With a trusted friend on the other end, they can offer an joyful, even liberating, experience. However, with a less trusted counter balance, they can epitomize Lord Acton's quote "Power tends to corrupt and absolute power corrupts absolutely." How often have you seen a seesaw used to taunt the one who is suspended. There is inherent risk and inequality in seesawing.
Balanced scales are an ancient tool for measuring weight and establishing value. The justice system adopted them to symbolize fairness and truth. Balanced scales can also be easily cheated and rigged to balance in a favored direction. The balance is both telling and tenuous.
Click on the images to enlarge.
The elements

The desks (Moulthrop) are salvages from a former school house in Vermont and date back to the early 1900s. These instantly recognizable artifacts drive the scale, makeup, and aesthetics of the other elements.
The fulcrum or pivot needed to be stable enough to safely support and visually compliment the two suspended desks. At the same time I didn't want this functional element to visually overpower the desks.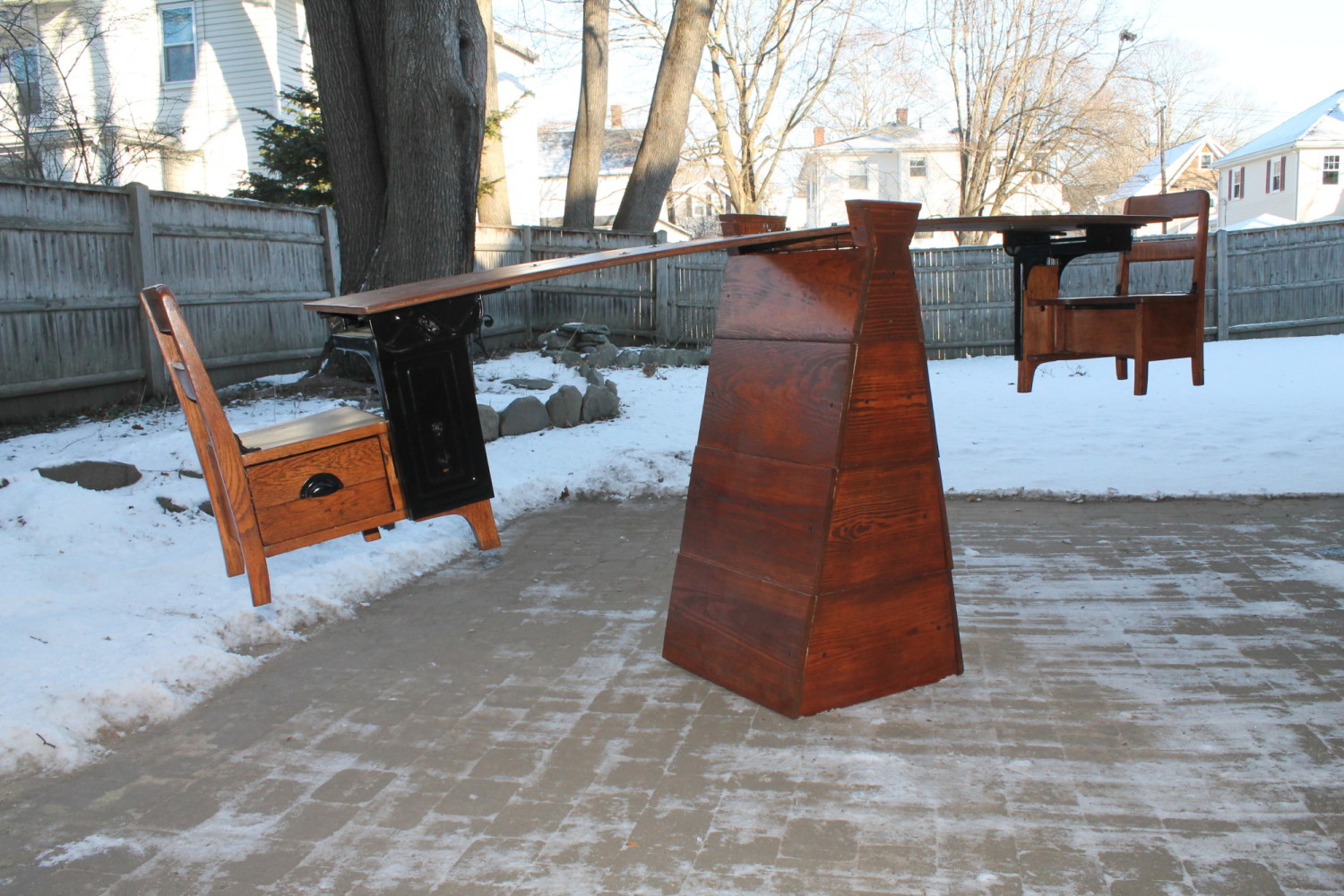 The lever that connects the two desks represented the biggest technical challenge. I wanted to keep the heft of the original desk tops but also needed something strong enough to securely suspend the two desks. Originally I used 3/4 inch plywood with an inner armature of 1/2 inch square steel tubing. While the inner armature minimized the play in the lever, there was enough to be a little distracting. (see picture) An inch marine plywood seems a better visual and structural solution.
The balls on top of the fulcrum could be seen as decorative elements but I was looking to create all-seeing eyes. The high gloss/matte finish has a really nice effect. (My wife says they look like pupils, "get it pupils can be a part of an eye or a student, and this is about testing." Yes, she is a laugh riot.)
Upon Further Reflection
As an installation artist I am inspired by place. That can be a geographic location, a moment in time, or an intersection of ideas. This piece grew from multiple convergences. While I had kicked the idea of this piece around, an invitation to join the exhibit Ode to Joyce McDaniel: Sculptor and Teacher provided the necessary context to bring it into focus. To celebrate Joyce's long career as a sculptor and Museum School instructor, the show exhibited Joyce's sculptures and the sculptures of nine of her students.
In 1993 I had served as Joyce's teaching assistant in her Materials a Week course. Each week we practiced reseeing everyday materials, exploring the expressive potential in their inherent qualities. We learned that responding to and building on these qualities could be transformative. For example, instead of simply being a sooty residue, smoke could uniquely evoke the ethereal and the sacred. Under the right conditions mundane toilet paper could create elegant, whimsical, and thought provoking works of art. In seeing the everyday with fresh eyes the artist is likewise transformed. See the Medium a Month showcases for examples of this process.
Joyce's classes stood in opposition to the bell curve. Long before I learned about the reading and writing workshop approach to teaching, Joyce modeled the benefits of a collaborative workshop learning environment. As we huddled around a work, thoughtful class critiques accompanied by slide presentations challenged and elevated all students equally. In that setting each student's interests and inherent qualities were drawn out and, as Joyce contends, student and teacher alike were transformed.
Abbie, I gave your wheel idea a try. I looked at a lot of options and these seemed to match the hardware on the desks. What do you think? I like the way they make the piece more "functional" and the balance more suspect. Plus, it will make moving it around a gallery easier.
For another installation that uses classroom artifacts see The Bluebird