Teach close reading skills, compassion, and the rich tradition of Madonna and Child paintings with Dorothea Lange's Migrant Mother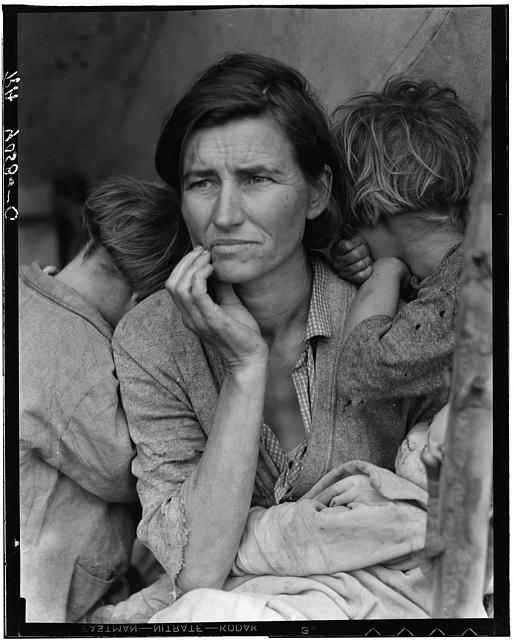 It was the end of a cold, miserable winter. I had been traveling in the field alone for a month, photographing the migratory farm labor of California—the ways of life and the conditions of these people who serve and produce our great crops. My work was done, time was up, and I was worked out.

It was raining, the camera bags were packed, and I had on the seat beside me in the car the results of my long trip, the box containing all those rolls and packs of exposed film ready to mail back to Washington. It was a time of relief. Sixty-five miles an hour for seven hours would get me home to my family that night, and my eyes were glued to the wet and gleaming highway that stretched out ahead. I felt freed, for I could lift my mind off my job and think of home. I was on my way and barely saw a crude sign with pointing arrow which flashed by me at the side of the road, saying PEA-PICKERS CAMP. But out of the corner of my eye I did see it.

I didn't want to stop, and didn't. I didn't want to remember that I had seen it, so I drove on and ignored the summons. Then, accompanied by the rhythmic hum of the windshield wipers, arose an inner argument:
Dorothea, how about that camp back there?
What is the situation back there?
Are you going back?
Nobody could ask this of you, now could they?
To turn back certainly is not necessary. Haven't you plenty of negatives already on the subject?
Isn't this just one more of the same?
Besides, if you take a camera out in this rain, you're just asking for trouble.
Now be reasonable, etc., etc.

Having well convinced myself for twenty miles that I could continue on, I did the opposite. Almost without realizing what I was doing, I made a U-turn on the empty highway. I went back those twenty miles and turned off the highway at that sign, PEA-PICKERS CAMP. I was following instinct, not reason; I drove into that wet and soggy camp and parked my car like a homing pigeon.

I saw and approached the hungry and desperate mother, as if drawn by a magnet. I do not remember how I explained my presence or my camera to her, but I do remember she asked me no questions. I made five exposures, working closer and closer from the same direction. I did not ask her name or her history. She told me her age, that she was thirty-two. She said that they had been living on frozen vegetables from the surrounding fields, and birds that the children killed. She had just sold the tires from her car to buy food. There she sat in that lean-to tent with her children huddled around her, and seemed to know that my pictures might help her, and so she helped me. There was a sort of equality about it.

The pea crop at Nipomo had frozen and there was no work for anybody. But I did not approach the tents and shelters of other stranded pea-pickers. It was not necessary; I knew I had recorded the essence of my assignment.

—Dorothea Lange, from an excerpt from The Assignment I'll Never Forget.
Look at Migrant Mother. Before reading the excerpts above, tell students the title of the piece and ask what is going on in this picture? This photograph explores themes and images that should be somewhat familiar to students. See how much they can decipher through a group discussion. Encourage students to identify the evidence that supports their reasoning. Students should likewise be encouraged to share wonderings and voice confusions. As the conversation slows, explain you are going to read Dorothea Lange's description of how her iconic photograph Migrant Mother came to be. After reading the excerpt ask how does this new insight change your understanding of the painting? What additional things do you see now?
Begin with art history
Dorothea Nutzhorn was born in Hoboken, New Jersey in 1895. She later rejected her surname and adopted her mother's maiden name after her father abandoned the family. At the age of seven Lange contracted polio which left her with a weakened right leg and a pronounced limp. The trauma of this painful disease, its lingering effects, and its associated stigma would shape Lange's worldview throughout her life and instilled in her an empathy for the suffering of others. She also felt that this infirmity made her more approachable to the forlorn people she later famously photographed. As she explained,
I was physically disabled, and no one who hasn't lived the life of a semi-cripple knows how much that means. I think it perhaps was the most important thing that happened to me, and formed me, guided me, instructed me, helped me and humiliated me. All those things at once. I've never gotten over it, and I am aware of the force and power of it.
While her mother worked as a librarian in the New York Public Library, Dorothea liked to skip school and prowl the streets of New York's Lower East Side, mingling with the throngs of arriving immigrant. After graduating from high school Dorothea worked as an assistant to Arnold Genthe, an established portrait photographer. Soon thereafter Lange set off to travel the world but ran out of funds in San Francisco where she settled and opened her own portrait studio.
Even though her studio was successful, Dorothea was restless to photograph the unemployed and homeless people the Depression deposited in the street around her studio. Her photographs caught the eye of Paul Taylor, an economics professor who was observing and documenting the impact of the Depression. With funding from the State Emergency Relief Administration, Taylor hired Lange to help him document rural poverty and the exploitation of sharecroppers and migrant laborers. It was on one of these trips that Lange photographed her portrait Migrant Mother, a picture of Florence Owens Thompson and three of her children (interview with one of the grown children).
Migrant Mother has become an iconic image of the Great Depression. With her children clinging to her for emotional and physical support, Migrant Mother expresses nobility and resilience in the face of adversity. With her hand raised to her mouth in anxious thought and her eyes fixed in a stare of weary searching she is an image of stoic resolve. Migrant Mother not only came to define the deserving poor displaced by the Great Depression, but she also symbolized the exhausted landscape and depleted resources that uprooted her and thousands of other migrant workers. Lange rushed this photograph out to the media and its widespread distribution did eventually inspire political action.
Lange went on to create politically sensitive photographs of the Japanese internment camps established in the United States during World War II. While Lange's photographs did not always provoke the social change she desired, her efforts to honor her subjects and preserve their dignity during a time of need did influence future documentary photographers.
Look like an art critic
The Importance of a Title
Point out and discuss: Titles contribute to the meaning of a work of art. They limit and guide a reader's interpretations. Consider the role titles play in your interpretation of this photograph. This photograph's original title still carried by the Library of Congress is "Destitute pea pickers in California, a 32 year old mother of seven children. February 1936." The image has since become popularly know as "Migrant Mother." How do the titles impact your reading of the photograph? Which title is better for engaging the viewer and advancing Lange's intentions?
Turn, Talk, and Report Back (Possible answers: The original title is truer to Lange's accompanying notes and her initial intentions to observe and document the conditions of the migrant farm workers. It is narrowly specific and detailed. As Taylor intended it would put a face to the statistics and trends he unearthed. It would compliment and add another dimension to his scientific report. In contrast, Migrant Mother is more universal, than specific. The abstract term "Mother" is not only generally understood, but because most people have had a mother who nurtured them it also is more emotionally charged. Because Migrant Mother is less detailed it encourages the viewer to use their imagination and insights, which makes the reading more personal. "Migrant" is likewise more understandable than "Destitute pea pickers" which could be a foreign concept to most people viewing this image. The title Migrant Mother is less scientific and more emotionally charged than the original title. This emotional reading is more apt to make people identify with the woman and would likewise inspire action, or at least support for the government's relief efforts.)
Compare images in the series
Point out and discuss: On that rainy night in the pea-pickers camp, Dorothea Lange took five pictures closer and closer from the same direction. Because these images were all of the same family at the same time under the same conditions they offer a telling comparison. Comparing the first, middle and last images in the series provides some insight into what makes the final portrait so compelling. How does your reading of these people and their situation change the closer the photographer gets? Why do you think the final portrait became the most publicized of the series?
Turn, Talk, and Report Back (Possible answers: The first shot provides more context, locating the family in place and time. The surrounding environment seems barren, beaten down, and littered with garbage. The trunk is ajar and the makeshift tent tattered. The rocking chair and trunk suggest items from a home but the tent doesn't offer much protection as a shelter. The people appear as dirty and as disheveled as their surroundings. They all look directly at the viewer in a guarded, and possibly off-putting way. This instills a sense of uncertainty in the viewer. Are we trespassing? At this distance it is difficult to make out all their features and you are analyzing, and even judging the family, based on their surroundings. In the middle picture you clearly see the mother and the faces of two of her children. You can see that their clothing is tattered and hard worn. The creases on the mother's face suggest strain. They huddle together and look away in a beleaguered stare. While they are together, they seem lost in their own thoughts. The stained canvas, the rough-hewn tent pole and the lantern suggest there are minimal modern conveniences or comforts. In the final portrait you can't make out the surrounding tent or really see the faces of the three children so you are left to focus on the mother. You can look into her eyes and read her tired gaze. The children lean into her and cling to her like a mass weighing her down. Her uplifted hand absent-mindedly pulls on her chin as if she is in anxious thought. Her eyes and hand make you see her inner apprehension and angst. This image most clearly reveals the toll on the people and is the most compelling on a human level. That is why it probably was the most publicized image.)
That Reminds Me of Something
Point out and discuss: Because documentary photographs render preexisting images, they are oftentimes perceived as more objective than paintings and other forms of art. In reality, photographers exhibit considerable discretion when they are selecting, framing, photographing, and editing their shots. In the manipulation of her photograph Lange created a composition with links to other images in art history. These allusions inform the interpretation and understanding of a piece. Some have referred to the Migrant Mother as the "Mona Lisa of the Dust Bowl." How are these images alike and how do the visual connections with Leonardo da Vinci's influential painting support the reading of the photograph?
Turn, Talk, and Report Back (Possible answers: Both images focus on a woman who sits in a reserved pose and both are organized around a stable triangular composition. The lack of a setting and their nondescript backgrounds causes the viewer to focus on the women's expressions, which is read through her hands, mouth and eyes. In both images the viewer looks slightly upward at their faces, which imbues the women with a sense of nobility and strength. The striking parallels between these two images suggest they merit equal reverence and attention. The striking parallels also make you focus in on the differences. For example, through the comparison the viewer is drawn to the Migrant Mother's anxiety and strain.)
Migrant Mother may have even more in common visually with the long tradition of Madonna and Child paintings, especially those framed by cherubs and archangels. Why might Lange have composed her photograph to mirror this tradition?
Turn, Talk, and Report Back (Possible answers: Lange may have wanted people to view the image within a moral framework of compassion and a Christian ethic that calls for the caring of the less fortunate. She may be reminding the viewer that Jesus had humble beginnings when he was born in a manger and that turning your back on the Migrant Mother would be like turning your back on the Virgin Mary during her time of need. Lange may be reminding the viewer that migrant laborers are not just pea pickers, but they are also mothers and children, just like the holy family and just like the viewer's family. Visually referencing this Christian tradition also creates an opportunity to consider another Christian tradition, the Golden Rule. Could Lange be saying we should care for this family the way we ourselves would want to be cared for?)
Think like an artist
Lange described the simple rules she followed in her documentary technique this way,
For me documentary photography is less a matter of subject and more a matter of approach. The important thing is not what's photographed, but how…. My own approach is based upon three considerations. First—hands off! Whatever I photograph, I do not molest or tamper with or arrange. Second—a sense of place. Whatever I photograph, I try to picture as part of its surroundings, as having roots. Third—a sense of time. Whatever I photograph, I try to show as having its position in the past or in the present.
Using a camera phone and Lange's guiding principles, photograph a subject the way Lange photographed Florence Owens Thompson and her children. First, go through your day looking for something compelling. It does not need to be a human subject. Starting at a distance take a series of five photographs, getting closer with each picture. Analyze how each position provides different information. Identify which of the five images best captures what caught your attention. Then keep looking. Lange's approach was really a way of looking at he world.
Life Lesson
Listen to your encouraging/challenging inner voice. For 20 miles Dorothea Lange drove on after seeing the sign PEA-PICKERS CAMP. And for 20 miles she argued with her inner voice on whether she should turn back and take yet one more series of pictures of the downtrodden and destitute. Eventually she gave in and retraced her steps, driving 40 miles out of her way to get the picture. And that picture made a world of difference to Lange and documentary photography. Artists oftentimes acknowledge the inner voice that berates them, telling them they aren't good enough. It is not often we hear about the encouraging inner voice that challenges an artist to just try a little bit more, a little bit harder. Just like we need to carefully choose our friends—the people we listen to—we also need to carefully choose the inner voice we listen to. NOW GET THE LEAD OUT AND GIVE ME ONE MORE PIECE, OR ONE MORE ACT OF KINDNESS, OR….
Related videos
Integrating into Your Curriculum
Artists oftentimes use common visual strategies or signposts to alert viewers to significant details in their art. Here are some ideas for using these visual signposts to unpack a work of art. Remember, the close reading skills in art appreciation are similar to the close reading practices taught in reading.
Literature Links: What piece of literature would you partner with Migrant Mother?
John Steinbeck's Grapes of Wrath shares Lange's sensibility and focus on migrant farm labor during the Great Depression. Chapter 20 describes the beleaguered existence in a Hooverville camp.
Sanora Babb's Whose Names are Unknown is a more journalistic, more female-oriented Dust Bowl companion novel to The Grapes of Wrath. (Backstory: Steinbeck used Babb's notes in the writing of Grapes of Wrath. The success of Steinbeck's novel resulted in Random House rescinding the contract for Whose Names are Unknown.)
Upton Sinclair's novel The Jungle explores similar themes in exposing the oppressive conditions Chicago's meatpacking industry imposed on its workers in the early 1900s.
Thomas Bell's Out of This Furnace examines the inhuman working conditions and the rise of trade unions in Pittsburgh's steel mills over three generations from the 1880s to the 1930s.
Writing opportunity: Argument essay. Is Migrant Mother an objective record or is it a form of artistic expression? These need not be mutually exclusive positions but arguing this question sets the groundwork for further reflection. Close read Anne Whiston Spirn's Daring to Look: Dorothea Lange's Photographs and Reports from the Field. Collect evidence from this article and class discussions to answer this question.
Possible objective record answers: She is a social observer recording the images and exact words of real people. She is adding visual context to the statistics being collected. She did not read about her subjects to avoid prejudicing her eyes. She did not editorialize or judge in her notes. The low position of the camera that made the subjects appear monumental was due to her height and the need to focus down into the viewfinder. While she frames her picture, she does not stage shots with foreign or inauthentic elements.
Possible artistic expression answers: She is an eloquent storyteller, deciding who the subject is and how they will be portrayed. She is not a dispassionate observer, rather she connected emotionally with her subjects. She allows her instincts and her own history—polio victim, abandoned by father and husband—to guide her. She uses her skills as a portrait artist —angle, cropping, editing—to heighten the effect she is looking for. She scans the landscape and selects the most dramatic images to photograph. This image can be seen as government propaganda to support their policies for distributing relief.
How would you use this photograph to build on one of your units of study? Please share if you have other ideas on how to teach Migrant Mother by Dorothea Lange as an English/language arts lesson plan.