Reflections and Guiding Principles for Cultivating Social Imagination in the Classroom
Maxine Greene's Releasing the Imagination: Essays on Education, the Arts, and Social Change (Jossey-Bass Inc., 1995) Learn more at Goodreads. Add your favorite titles to the Artistic Thinking Bookshelf.
Since this site's guiding principles owe much to Maxine Greene, it is fitting to open the site's Artistic Thinking Bookshelf with her book Releasing the Imagination. Too often the arts are celebrated for how they reinforce and extend other subject area skills. While this may offer some a compelling argument for the teaching of the arts, it sidetracks a more meaningful discussion and diminishes the arts to merely a supporting role in the larger curriculum. The arts can teach crucial skills and concepts like no other subject. Releasing the Imagination is an eloquent and impassioned manifesto for the teaching of the arts for arts sake, and for the sake of social justice and a democratic society.
Releasing the Imagination h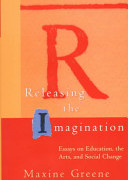 as the soaring rhetoric of a manifesto and should be read as such. Together, the essays develop a carefully-crafted argument for how the arts are uniquely suited to awaken imagination, foster empathy, encourage collaboration, broaden world views, and open minds. Greene's lofty ideals and existential grounding guard against educational conformity and remind the reader that teaching is rich with moral choices.
If you are looking for practical strategies and teaching tips, this is not your book. Also know that while her reasoning supports all of the arts, Dr. Greene relies heavily on literary examples, which may be foreign to some and lack the immediacy of the visual arts.
Try on some of the quotes below and see if it suits you. Or, watch the author video clips provided at the bottom.
the importance of imagination
One of the reasons I have come to concentrate on imagination as a means through which we assemble a coherent world is that imagination is what, above all, makes empathy possible. It is what enables us to cross the empty spaces between ourselves and those we teachers have called "other" over the years.…Imagination is the one that permits us to give credence to alternative realities It allows us to break with the taken for granted, to set aside familiar distinctions and definitions. (page 3)
social imagination defined
We also have our social imagination: the capacity to invent visions of what should be and what might be in our deficient society, on the streets where we live, in our schools. (page 5)
educating beyond the status quo
In many respects, teaching and learning are matters of breaking through barriers—of expectation, of boredom, of predefinition. (page 14)
the collaborative and constructivist ideals of education
In my view, the classroom situation most provocative of thoughtfulness and critical consciousness is one in which teachers and learners find themselves conducting a kind of collaborative search, each from his or her own lived situation. (page 23)
imagination unifies
Imagination may be a new way of decentering ourselves, of breaking out of the confinements of privatism and self-regard into a space where we can come face to face with others and call out, "Here we are." (page 31)
the ideal classroom
Our classrooms ought to be nurturing and thoughtful and just all at once; they ought to pulsate with multiple conceptions of what it is to be human and alive. They ought to resound with the voice or articulate young people in dialogues always incomplete because there is always more to be discovered and more to be said. We must want our students to achieve friendship as each one stirs to wide-awakeness, to imaginative action, and to renewed consciousness of possibility. (page 42)
the arts broaden world views
At the very least, participatory involvement with many forms of art enables us to see more in our experience, to hear more on normally unheard frequencies, to become conscious of what daily routines have obscured, what habit and convention have suppressed.…When we see more and hear more, it is not only that we lurch, if only for a moment, out of the familiar and taken-for-granted but that new avenues for choosing and for action may open in our experience; we may gain a sudden sense of new beginning, that is, we may take an initiative in the light of possibility. (page 123)
the role of the arts in education
One tendency in education today is to shape malleable young people to serve the needs of technology and postindustrial society. However, there is another tendency that has to do with the growth of persons, with the education of persons to become different, to find their voices, and to play participatory and articulate parts in a community in the making. Encounters with the arts and activities in the domains of art can nurture the growth of persons who will reach out to one another as they seek clearings in their experience and try to be more ardently in the world. If the significance of the arts for growth and inventiveness and problem solving is recognized at last, a desperate stasis may be overcome and hopes may be raised, the hopes of real possibility.…Art offers life; it offers the prospect of discovery; it offers light. Resisting, we may make the teaching of the aesthetic experience our pedagogic creed. (page 132)
Related Author Videos
In Blue Guitars: Arts and Aesthetics in Learning (1:19:55) Maxine Greene shares her vision of the power of the arts in education to transform student indifference into a state of wide-awakeness.
In this 4 minute video clip Maxine Greene describes her view of art and creativity.
"To New Teachers" is a 9-minute video collage featuring Maxine Greene urging new teachers "to think about what they are doing and use their imaginations as they keep in mind what might be, what ought to be."