Grant Wood's Parson Weems' Fable offers mentor art for teaching students about satire.
Mentor texts have long been used to model writing techniques. Mentor art can likewise be used to inspire, teach, and refine student writing. Mentor art has the added benefit of addressing diverse learning styles and providing visual support to language learners. Consider introducing satire to your students with Grant Wood's Parson Weems' Fable.
It is beneficial to let students experience a work of art on its and their own terms before using it as mentor art. This link offers teaching moves and language for introducing students to Grant Wood's Parson Weems' Fable.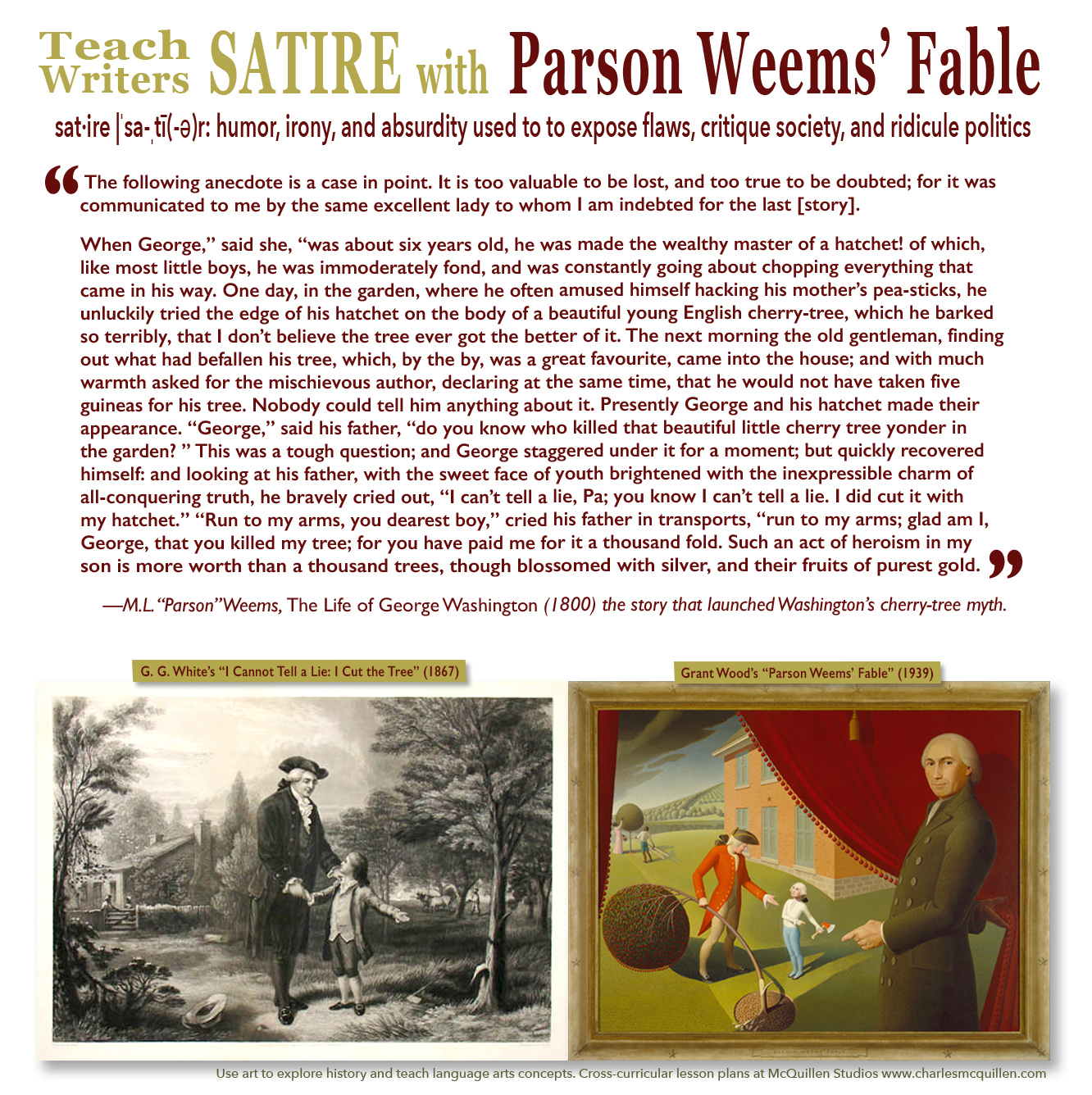 Project the image above, read the original fable by Parson Weems, and have students respond in small groups to the following discussion prompts and report back. Click on the image to expand. Drag the jpg into a Word document to create your own handout.
#1 What visual elements do these artworks share?
Turn, Talk, and Report Back (Possible answers)
Both images illustrate Parson Weems' story. Both show Washington's father standing over him while gesturing toward to the barked cherry tree. And they both show Washington with the hatchet in close proximity owning up to his misdeed. The backgrounds of both images show slaves working on the plantation. The gestures of the characters and overall composition are very similar.

#2 What satirical elements has Wood added to the story? Note what you see as humorous, absurd, and ironic.
Turn, Talk, and Report Back (Possible answers)
One of the most humorous elements of the painting is George Washington's adult head is placed on his six-year-old body. This makes George both instantly recognizable and freakishly absurd. Parson Weems' wry smile while pointing at the scene also underscores Wood's humorous intentions. The physical act of pulling back a metaphorical curtain while engaging the viewer eye-to-eye is likewise lighthearted. Wood extends this absurdity by having the light source that illuminates the scene come from outside the left edge of the frame where the curtain has been lifted. This is the same light source that illuminates Weems and the curtain. Note how Wood uses the shadow from the frame to create a spotlight effect that focuses the viewer on the interaction between George and his father. While creating an opportunity to reflect on the value of truthfulness, Wood encourages the viewer to join in the inside joke and laugh at our own myth-making. The irony of depicting the falsehoods at the core of this legend on the importance of being truthful further adds to the humor.

#3 Do you think Wood's satirical painting is simply meant to entertain or is it also meant to educate and inform people's thinking? (Answers will vary. In the graphic below Grant Wood describes his intentions.)

Expand your discussion with Grant Wood and a group of meerkats. Note the meerkats are an unpredictable lot and can be a tad impetuous. Their opinions and actions are not those of this organization. Don't blame us for what they say.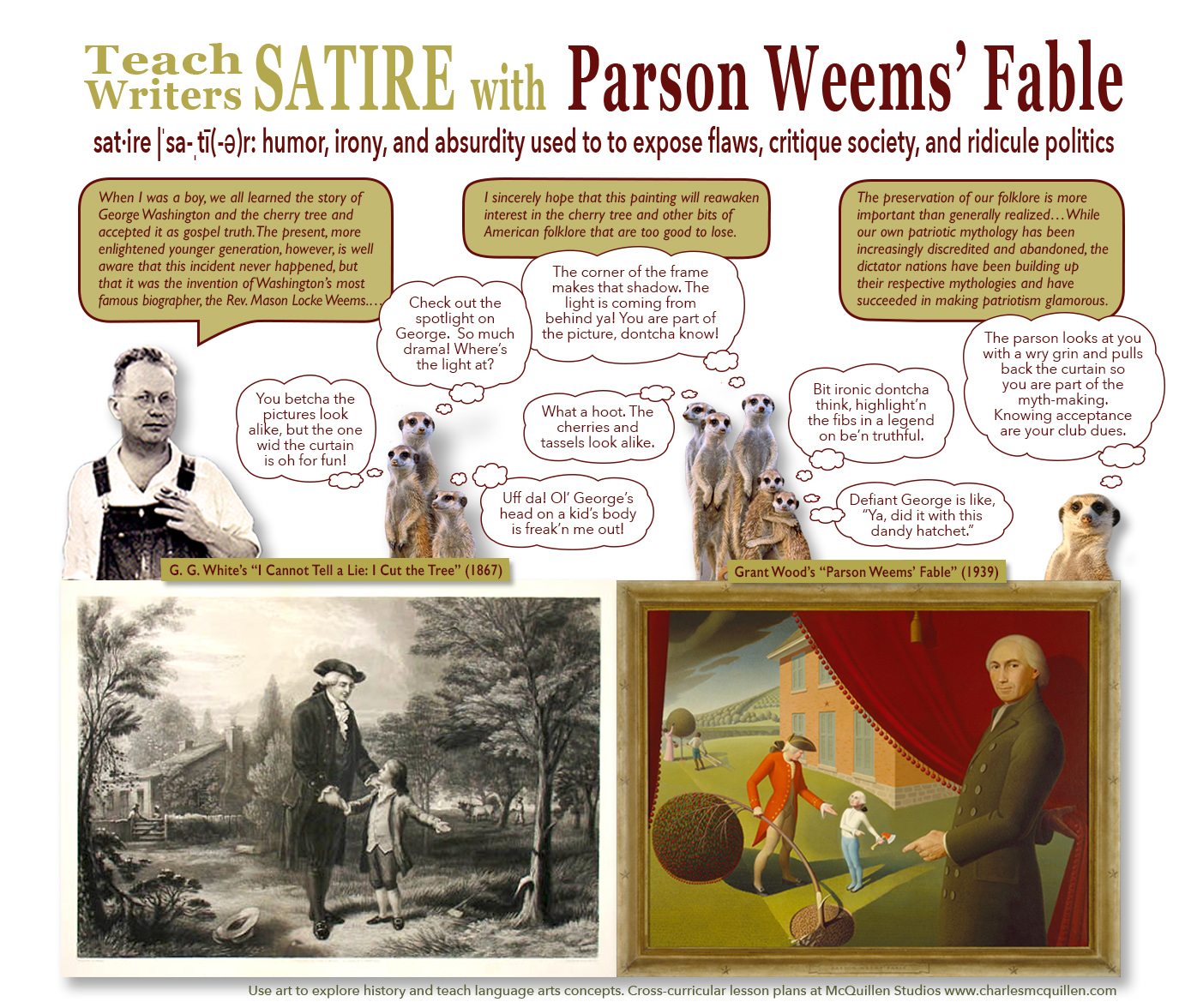 How would you use Grant Wood's Parson Weems' Fable to teach satire or writing techniques? Extend the discussion with your comments below.