Teach close reading skills, the art of the selfie, and personal narrative writing with Frida Kahlo's Self-Portrait with Thorn Necklace and Hummingbird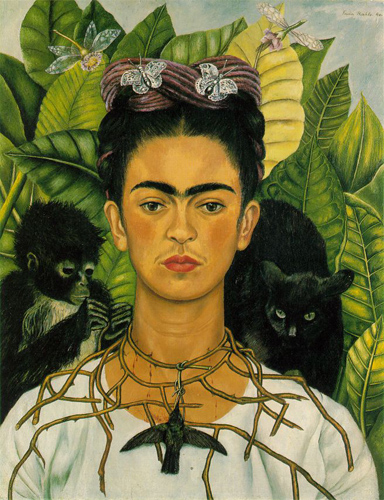 Both the thorny vine and the threat of death turn up again in a 1940 Self-Portrait that Frida sold to Nickolas Muray. Now the vine is woven into a necklace of thorns that draws blood from Frida's neck. By wearing Christ's crown of thorns, Frida again presents herself as a Christian martyr. Several of the necklace's twigs are broken: Frida had an empathy for broken things—broken tables, broken veins, broken hearts. Hanging from the thorn necklace is a dead hummingbird, whose outstretched wings echo Frida's joined eyebrows. The bird must point to Frida's feeling of being cut down in flight or to her rejection by Diego: in Mexican folk tradition dead hummingbirds were used as charms to bring luck in love. In Aztec mythology the hummingbird symbolized reincarnation—the spirits of dead warriors returned in the form of hummingbirds. In Christian symbolism birds in general stand for the winged soul. Given the religious atmosphere of this painting, in which Frida looks as solemn as a Pantocrator, the bird might also refer to the Holy Ghost.

Behind her shoulders, Frida's cat and monkey are black and menacing. The cat is ready to pounce on the bird, and the monkey Caimito de Guayabal (meaning Guavapatch Fruit), a gift from Diego, fingers the necklace of thorns in a way that could deepen Frida's wounds. As in many of her bust-length self-portraits, a wall of large leaves closes off space. Every leaf presents its full veiny front or back to the spectator, just as Frida addresses us with her full frontal view. Among the leaves two flowers transformed into dragonflies may be symbols of transcendence, as are the filigree butterfly brooches attached to Frida's headdress. (Years later, Frida gave these butterfly pins to a lover as a token of her love.)

In letters Frida called her physical trials a "martyrdom." In paintings she dignified her grief by comparing it to Christ's suffering. Although she left Catholicism when she was about twenty-one, she remained steeped in it, and her paintings have a religious function. By painting herself as a martyr transcending pain, Frida made herself into an icon for herself and others to worship. Like the holy image in a votive painting, she is at once an abstract symbol and a powerful physical presence. Her self-portraits were, like ex-votos or magic talismans, crucial to her survival. This feeling of magical efficacy gives Frida Kahlo's paintings the peculiar magnetism that pulls the viewer into her cult.

— Hayden Herrera, Frida Kahlo's celebrated biographer offering unparalleled insight into her Self-Portrait with Thorn Necklace and Hummingbird in his book Frida Kahlo: The Paintings, pages 142–144.
Look at Self-Portrait with Thorn Necklace and Hummingbird. Before reading the excerpt above, tell students the title of the piece and ask what is going on in this picture? This self-portrait contains telling imagery and symbols that describe Frida's emotional state and how she sees herself. See how much students can decipher through a group discussion. Encourage students to identify the evidence that supports their reasoning. Students should likewise be encouraged to share wonderings and voice confusions. As the conversation slows, explain you are going to read a description of the painting by an author who has particularly deep insight into Frida Kahlo's background and her art. After reading the excerpts ask how does this new insight change your understanding of the painting?
Begin with art history
Frida Kahlo was born in Mexico City, Mexico July 6, 1907. Even though Frida's right foot and leg were permanently deformed when she contracted polio at the age of six, she lead a physically active childhood. At the age of 18, Frida was involved in a severe trolley-bus accident that, amongst other things, broke her back, pelvis, collarbone, and crushed her right leg. During her three-month recovery in a full body cast Frida turned to art to occupy her mind. Her parents devised an easel that would let her paint while she lay immobile on her back. Even though Frida regained her ability to walk, throughout her life she had relapses of extreme pain and endured more than 35 operations to address related medical complications. Again and again Frida turned to art as a cathartic ritual to alleviate the isolation her convalescence imposed and cope with her physical and psychological sufferings.
Frida's tumultuous marriage to the famous muralist Diego Rivera, likewise inspired Frida's deeply personal art. Even though Frida and Diego were passionately in love, they tortured each other with extramarital affairs. As Frida explained,
There have been two great accidents in my life. One was the trolley, and the other was Diego. Diego was by far the worst.
While Frida created over 150+ painting and drawings that explored a range of themes, she is best known for her 55 unflinching self-portraits. As Frida explained,
Since my subjects have always been my sensations, my states of mind and the profound reactions that life has been producing in me, I have frequently objectified all this in figures of myself, which were the most sincere and real thing that I could do in order to express what I felt inside and outside of myself.
Even though Frida was an atheist, her art draws heavily on Christian imagery. In part this was because her mother, a devout Catholic, educated Frida and her sisters in Catholic schools. Maybe more importantly, the use of this imagery grew out of Frida's nationalistic pride and her efforts to advance the Mexicanidad movement that celebrated Mexico's indigenous art traditions. For example, Kahlo collected and displayed throughout her home 2000 retablo paintings. These small oil paintings on tin, copied from religious paintings and sculptures, were created for veneration in home shrines. Crafted by self-taught artists who were ardent believers, these paintings are intensely emotional and typically exhibit harsh scenes of suffering, vibrant colors, and dramatic symbolism. Mexico's retablo, and the related ex-voto painting tradition inform Frida's visual vocabulary.
These varied influences and inspirations can be found in her iconic Self Portrait with Thorn Necklace and Hummingbird. Painted in 1939 at the time of her divorce from Diego (they would remarry a year later), Frida fuses Christian and Mexican imagery to chronicle the turmoil that consumed her. In staring down the strife in her life, this and many of her other self-portraits have become inspirational symbols of resilience and fortitude. While focused on her own tribulations, these self-portraits speak to a common humanity and connect with others who share her pain and feeling of abandonment. As Frida explained,
I used to think I was the strangest person in the world, but then I thought there are so many people in the world, there must be someone just like me who feels bizarre and flawed in the same ways I do. I would imagine her, and imagine that she must be out there thinking of me too. Well, I hope that if you are out there and read this and know that yes, it's true I'm here, and I'm just as strange as you.

Frida's fame has grown since her death in 1954, a week after her 47th birthday. By incorporating elements of Mexican folk art into her paintings, Kalho broke down the distinction between high and low art. By using realistic imagery and familiar symbols, Kahlo encouraged personal interpretations and multiple meanings. Through her strong sense of identity as a proud bisexual Hispanic woman, Kahlo's life and art challenged social norms and established ways of thinking. In defying colonialist assumptions, Kahlo became an early voice in postmodern art and a celebrated leader in the Feminist art and minority art movements.
Look like an art critic
Ambiguous Symbols
Point out and discuss: (You may want to do this for the opening discussion.) Background building in literature and art can enhance reading comprehension. Though at times, context-setting information can distract the reader from actively developing their own interpretation. The educated interpretations around the monkey that tugs at Frida's thorn necklace offers a case in point. Some critics point out this is a realistic depiction of her beloved pet. Others say it symbolizes Diego or their tormented romance. Others contend the monkey represents the children she could never have due to her trolley accident. Still others believe it draws on an ancient Aztec tradition that viewed the monkey as a symbol of the arts, creativity, and expression or that it is a Mexican symbol of lust. Others even contend that its placement on her right shoulder makes it a symbol of the devil. Some of these interpretations offer illumination, while others offer little more than intellectual clutter. Remind students that skilled writers and artists carefully embed clues in their work to support their underlying intentions and that they value their audiences' varied readings. Encourage students to read the monkey closely and develop their own interpretation of what it symbolizes. Have students support their interpretation with visual evidence. What do students know about monkeys and how did that inform their interpretation? How does this external symbol express Frida's emotional state?
Turn, Talk, and Report Back (Possible answers: The monkey seems relaxed and fixated on the thorn necklace, not threatening. Like Boots (Dora the Explorer's monkey companion) and Curious George, he seems playful, inquisitive, and impetuous as it fumbles with the thorn necklace. While he is not a menacing figure, his indifference to the pain he must be causing Frida by tugging on the necklace that draws blood from her neck is alarming. You want to admonish the monkey not to be so self-absorbed and to consider how its actions are hurting Frida, but you know the monkey is being true to its own nature and won't understand or change its behavior. Frida does not show fear or look threatened by the monkey, rather she stoically endures the pain. The monkey's callous disregard for the pain it causes and Freda's stoic resolve evokes a dysfunctional relationship that leaves her chronically pained and emotionally scarred. Is this how Frida sees her relationship with Diego or, is this a visual expression of the physical pain she endured most of her life.)
Building on this close reading model, have students work in small groups to unpack the remaining images and then report back:
black cat (menacing, ready to pounce on the hummingbird; symbol of bad luck and witches)
hummingbird (unnaturally colorless, lifeless; wings echo her eyebrows; crucifix; Aztec symbol of reincarnation)
butterflies (colorful, delicate; not earth bound; symbol of transformation, hope, freedom)
thorn necklace (echoes the crown of thorns worn by Jesus at his crucifixion)
Together these symbols evoke Frida's feelings and her state of mind.
Inspirational Art History

Point out and discuss: Compare these three retablos and the religious sculpture with Kahlo's Self-Portrait with Thorn Necklace and Hummingbird. Note how symbols are used to tell their story.
Mater Dolorosa (Mother of Sorrows) emphasizes the seven sorrows—seven daggers into her heart—Mary endured including the crucifixion of her son, Jesus—shown by the crown of thorns.
Ecce Homo (behold the man) are the Latin words used by Pontius Pilate when he presents a scourged Jesus bound and crowned with thorns to a hostile crowd.
Andrew, when facing death, requested that he be crucified on an x-shaped cross as he deemed himself unworthy to be crucified on the same type of cross as Jesus had been.
Peter of Verona (also known as Peter Martyr) kept preaching after being mortally injured by an axe blow to the head. (sculpture from a church in Oaxaca, Mexico) He carries a palm frond, a common symbol of martyrs.
What features do they have in common? How do these features serve Kahlo's intentions?
Turn, Talk, and Report Back (Possible answers: They all use easily recognizable symbols to express their pain and suffering. The composition is really simple and spare so you focus on the symbols and the suffering of the individual. They face the viewer straight on so you have to confront their suffering. The backgrounds are flat and uncluttered. Their torture is especially realistic and bloody—veristic. The are shown at especially low points where they are physically beaten and emotionally betrayed which makes you feel for them but also respect their fortitude and their ability to transcend their pain. Like Peter Martyr, Frida has large palm-like leaves. Like the retablo artists, Frida uses pain and realism to attract sympathy, respect, and even devotion.)
Compare Self-Portraits
Point out and discuss: Frida Kahlo and Vincent Van Gogh are both celebrated for their introspective self-portraits. Compare Kahlo's Self-Portrait with Thorn Necklace and Hummingbird with Van Gogh's Self-Portrait with Bandaged Ear and Pipe. Both self-portraits were painted at a time of personal turmoil—Frida had just divorced Diego and Vincent had just endured the physical and emotional trauma that accompanied his broken friendship with Paul Gauguin including the severing of his ear. How did Kahlo and Van Gogh visually express their feelings? What visual elements do these self-portraits share?
Turn, Talk, and Report Back (Possible answers: While Kahlo used realistic imagery and symbols to describe her emotional state, Van Gogh placed greater emphasis on the use of color and brushstrokes to express his. Van Gogh used complimentary colors in the background to make his self-portrait more dramatic. The orange accentuates the blue in the hat and the red accentuates the green coat. The long flat vertical brushstrokes of the background accentuate the short dramatic brush strokes that model his face and clothing. While these differences are significant, the self-portraits actually have more in common. Both artists use strong lines to focus the view on their eyes. Van Gogh uses the convergence of orange and red fields to create a line that bisects the painting and centers on his eyes. Kahlo uses the curved line from the cat's back and the monkey's head to align with her eyebrows and come together on her eyes. Their stoic expressions likewise make you look into their eyes for meaning. Both artists use a flattened background and a balanced composition with their face and eyes in the center to make the viewer focus on them. Both artists offer an honest and unflinching view of their unique features that society would traditionally try to hide. Van Gogh highlights his worn appearance and bandaged ear. Kahlo accentuates her punctured skin and facial hair. Even though both are expressionless, subtle signs make the viewer feel their pulse and humanity. The trickle of blood on Kahlo's throat makes you feel her heartbeat. The smoke from Van Gogh's pipe and nose make you feel his breathing. Both artists seem to be enduring in the face of turmoil.) Are these visual elements echoed in two more self-portraits—self-portraits that touch on the issue of death? The Kahlo self-portrait is titled Thinking about Death. Van Gogh's intense Self Portrait: Saint-Rémy, 1889 is his final self-portrait painted just months before his suicide.
Think Like an Artist
Self-portraits provide deep insight into an artist's circumstances, emotions, and personality. They offer artists opportunities for deep introspection. As Kahlo explained,
I am my own muse, I am the subject I know best. The subject I want to know better.
In many ways Kahlo's and Van Gogh's self-portraits are the forerunners of the selfie. Using the visual vocabulary and concepts developed in this lesson and a camera phone, craft your own "selfie-portrait" that can be read as a personal narrative essay. Note, whether you are applying to college or a job, you will eventually need to answer the request, "Tell me about yourself." This exercise will help you begin to formulate a response.
Life Lesson
Consume solitude in moderation. Between her convalescence from polio and her bus accident, Frida endured long bouts of extreme solitude at a very young age. While these episodes were imposed upon her, Frida leaned early on how to harness the power of solitude. During these times she turned to art and introspection to find her own unique path. This is not to suggest that you need to be immobile on your back for months at a time. Moderation is key. Albert Einstein put the role of healthy seclusion in context,
Although I have a regular work schedule, I take time to go for long walks on the beach so that I can listen to what is going on inside my head. If my work isn't going well, I lie down in the middle of a workday and gaze at the ceiling while I listen and visualize what goes on in my imagination.
Many creatives and revolutionaries have figuratively or literally walked into the dessert to gain the solitude needed to find their way. Spending time alone, if done right, is integral in the creative process. Open workspaces, crowd sourcing, and team brainstorming have emphasized the importance of collaboration in creative thinking, but we can't forget the importance of taking time to ourselves if we want to think deeply, focus, and listen to our imaginations.
Related Video
Integrating into Your Curriculum
Artists oftentimes use common visual strategies or signposts to alert viewers to significant details in their art. Here are some ideas for using these visual signposts to unpack a work of art. Remember, the close reading skills in art appreciation are similar to the close reading practices taught in reading.
Literature Links: What piece of literature would you partner with Frida Kahlo Self-Portrait with Thorn Necklace? Self-Portrait with Thorn Necklace could inform the study of Latin American magical realism, a literary style that combines the matter-of-fact inclusion of magical or supernatural elements with ordinary events and realistic situations.
Gabriel García Márquez' One Hundred Years of Solitude (1967) tells the multi-generational story of the Buendía family and the extraordinary events that shaped their fantastic fortunes and bizarre misfortunes.
Isabel Allende's The House of the Spirits (1982) chronicles the triumphs and tragedies of the Trueba family against the backdrop of Chile's post-colonial social and political upheavals.
Laura Esquivel's Like Water for Chocolate (1989) is a story about a Mexican girl who is kept from her true love by family traditions. Her strong emotions become infused into her cooking and she unintentionally affects the people around her through the food she prepares.
Writing Opportunity: Personal narrative essays build naturally on the Think Like an Artist's "selfie-portrait." In this activity students will pare down a range of ideas to a clear visual statement, they will "show not tell" who they are, and they will use vivid details and evidence to create a coherent image. In addition to tapping sensory perceptions and emotions, students may also identify evocative metaphors and unearth universal themes. An ekphrastic poem about their selfie-portrait may offer students a creative way to launch a personal narrative essay.
How would you use this painting to build on one of your units of study? Please share if you have other ideas on how to teach Self Portrait with Thorn Necklace and Hummingbird by Frida Kahlo as an English/language arts lesson plan.